A luxury watch is, quite appropriately, a
timeless
accessory to own. Appealing to collectors and casual enthusiasts alike, the added benefit of owning an opulent timepiece is that it will not lose any of its value over time – making their ownership a great investment.
As a purveyor of high-class
pre-owned watches
here at Mallard Jewellers, we regularly field questions from people who are interested in making an investment in their own timepieces – so if you've been thinking about making your own investment in a luxury watch, read on to learn more about their benefits, and why you should own one.
Why Should I Invest In Pre-Owned, Luxury Watches?
They're intricately made...
Watches that are relatively inexpensive will generally be mass produced in factories where the intenseness of the quality control will vary. This means that their watches will have a short lifespan, perhaps even have flaws in their appearance – and may not even be able to tell you the time reliably.
On the other hand (wrist?), luxury
pre-owned watches
are crafted by master watchmakers whose business it is to ensure that each model they create is in pristine condition. Their work is done in small batches, which allows them to dedicate the right amount of time and attention to perfecting each one. As a result, each piece, aside from them looking and feeling great on your wrist, will be accurate and consistent with their time-telling for decades to come.
...with high-end materials
In order to ensure their longevity and constant reliability, luxury watches are made with high-end materials. Not only that, but the aesthetic look that they combine to create will make a bold statement and can be a great conversation starter. The look of a luxury watch can create a subtle display of refinement and taste for those who are seeking to improve their outward image.
Their relative rarity
Seeing as luxury watches take much time and dedication to produce, each model will be relatively rare – making them an excellent choice of accessory for anyone seeking to make that bold statement. With many
pre-owned watches
being extremely valuable, many people use them as family heirlooms, passing them down from generation to generation – adding a
priceless
value to it.
Their features
Aside from their high-end qualities and longevity, another aspect that lower-quality watches cannot compete against luxury watches with, is the features that they're able to express. Many collectors look out for features such as chronographs, tachymeters or deep diving capabilities when browsing for luxury timepieces. Some watches have even been specifically designed for sport use and serve as invaluable tools for athletes and officials alike –
Tag Heuer
provide support for cycling, football and marathon events, whilst Rolex
provides timing services for all four of the professional tennis grand slam events
. Additional features ultimately enhance the value of even the most used of pre-owned luxury watches, further solidifying any investment you're willing to make.
Investing in a luxury timepiece has many advantages that are well worth considering – so be sure to look carefully at their descriptions. When narrowing down your choices, you should pay attention to the features that you would find of use and a style that you'll be able to cherish for years to come. In the end, there is no substitute for luxury – making high-class watches a worthy investment.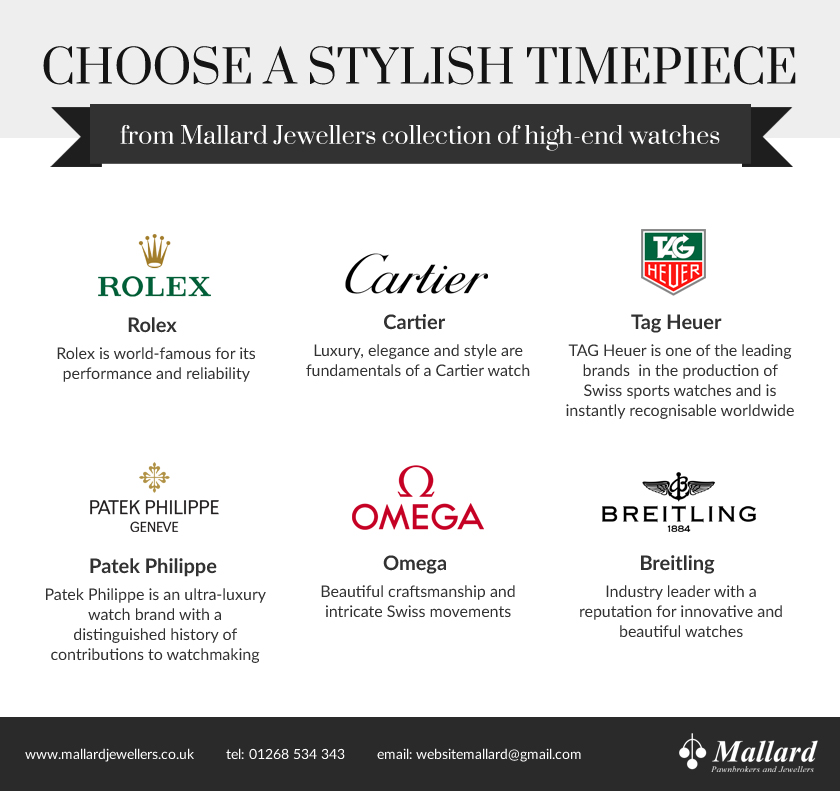 Make An Investment In A Pre-Owned Luxury Watch With Mallard
Whether you're an experienced collector of designer watches or if you're looking to start a collection from scratch, we have a fantastic range of pre-owned timepieces for you to choose from. With all of the brands we have on sale all having a unique history and reputations, we are confident that you'll be able to find what you are looking for.
Remember that one of the best reasons that you could have in purchasing pre-owned watches is that their value will
not
decrease over time – unlike new watches that lose value as soon as you leave the store with it. The longevity of vintage pieces speaks for their high-qualities – a great selling point if you ever wish to trade in your investment.
The illustrious brands we have sale include; Rolex, Breitling, Cartier, Tag Heuer, Omega, Patek Philippe, Panerai, Longines, Gucci, Beuche Girod and a selection of others – why not take a look at our extensive range for yourself?
If you have any questions about any aspect of services, we would be pleased to speak with you. You can call us on
01268 534 343
or you can send an e-mail enquiry via
the form on our contact page