that cater to a wide variety of tastes. Having established a leading business in buying and selling of new and pre-owned jewellery, we can quickly understand the qualities of every single piece we intend to acquire. This ultimately gives our customers the best opportunity to purchase
at great-value prices. So, why not take a look around for your ideal engagement ring?
Our Selection of Second-Hand Diamond Solitaire Rings
Our
pre-owned diamond solitaire rings
are available in several different cuts, carats, colours and clarities. From 18ct yellow gold, round-cut to 9ct white gold, brilliant-cut – and everything else in between. To make the finding of items that may be of interest to you easier, use our handy tool on the left of this page to select items by price, metal and stone cut.
As you browse our range, if you see a pre-owned diamond ring that you are interested in, you'll be able to learn more information on its material makeup by simply clicking on it – but what do you need to look out for?
Choosing The Right Diamond Ring
When choosing a diamond solitaire ring, it's vital that you do your research and understand what you're buying into before you make your purchase. Here's our guide on choosing the right diamond ring:
Why Choose A Pre-Owned Diamond Ring?
One of the major reasons why someone would choose to purchase a pre-owned diamond ring is that it
offers better value
than new. With a purchase price much lower than new items of the same specifications, their history of use offers an insight into their durability too. Also, if you consider that new items immediately diminish in value as soon as you take it from the store – the value of older rings will remain the same. For those who intend to pass on their jewellery to loved ones, this assurance is the main factor that they look for when purchasing
pre-owned diamond solitaire rings
.
Additionally, with second-hand diamond rings, you can
browse through a much wider range of different styles
. If looked after correctly, well-made jewellery can last for a very long time and as such, a second-hand jewellery section at a jewellers could include items from numerous different decades. It is also possible that you could find a one-of-a-kind ring in a collection of pre-owned jewellery.
What Metal Should You Choose For The Diamond Solitaire Ring?
There are numerous different ring metals that you could choose from, such as white gold, yellow gold or rose gold. However, if you're unsure what metal to choose, think about the jewellery that your recipient often wears. If they prefer colder toned jewellery, you should consider a white gold solitaire ring. However if they prefer warmer tones, consider purchasing a yellow or rose gold ring.
You can browse through a wide variety of different metals in our selection of
pre-owned diamond solitaire rings
. However, for those who would like to refine their search, you can limit your search to different types of metal, or if you would prefer you could refine the search to material colour such as 2 tone, white, or yellow.
Choosing The Diamond - The 4 Cs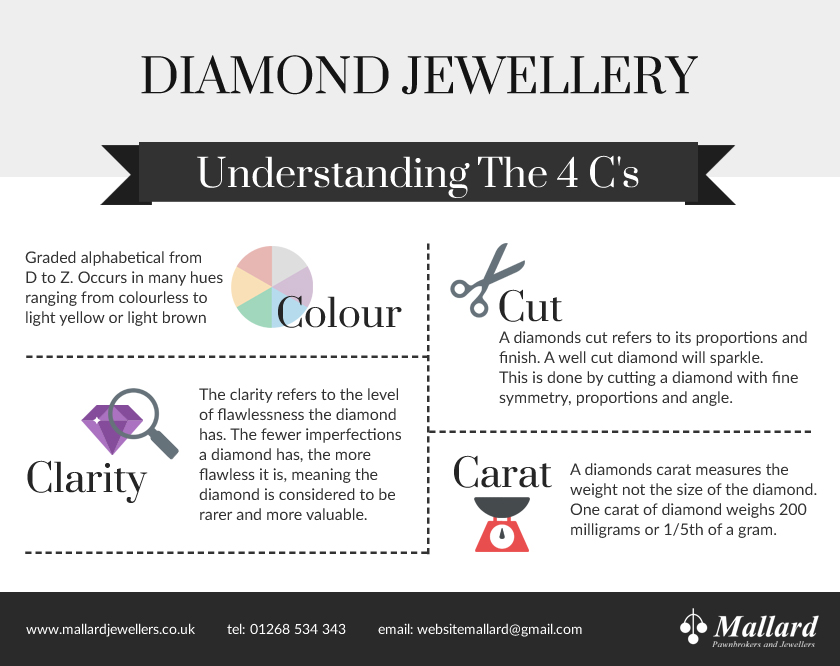 When purchasing any diamond solitaire ring, you must consider 'the 4 Cs'. These are used to determine value in a diamond. The 4 Cs are Clarity, Carat, Colour, and Cut:
Clarity. A diamond's clarity is also known as a diamond's purity. After being examined under magnification for inclusion (both inside the diamond and on the surface diamond), it will be graded on its clarity. A diamond with the highest level of inclusions would be known as 'I3', however, if a diamond is graded 'FL', it has no visible inclusions (when viewed at 10x magnification).



Carat.

When you measure a carat of a diamond, you measure its weight (although this isn't the sole issue that defines its value or brilliance). One carat of a diamond weighs 200 milligrams of 1/5th of a gram.



Colour.

The colour of a colourless diamond is ranked on a scale from D to Z. This occurs in many hues ranging from colourless to light yellow or light brown. However, it is important to remember that not all diamonds are colourless. Some diamonds can be blue, red, pink, green, brown, or numerous other colours.



Cut.

There are many different types of diamond cuts. One example is the round cut, which has a high level of fire and brilliance. Fire refers to the sparkle you see when light is broken down by the diamond, producing a 'rainbow' of colours, and brilliance refers to the colourless light that reflects out from the diamond. The numerous other cuts that you could choose from include; Princess cut, Asscher cut, Cushion cut, Emerald cut, Marquise cut, and many more.
So that was our guide to choosing the right diamond rings – please feel free to take a look around our selection of second-hand diamond jewellery. If you have any questions about any aspect of choosing the right diamond jewellery, or our service, do not hesitate to get in touch with us directly today.
Any Questions? Get In Touch With The Mallard Jewellers Team
To learn more about our
pre-owned diamond solitaire rings
or if you would like additional information regarding any of the items of jewellery that are available from Mallard Jewellers, please do not hesitate to call our friendly and dedicated team on
01268 534 343
. Alternatively, you can send an e-mail enquiry through
the form on our contact page
.